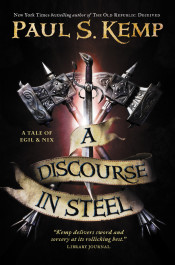 This month I'm deviating from my standard format for "What's new…" posts because I want to highlight my own release this month.
So what's new for June?  More Egil and Nix is what's new for June, by God!
As you can see from the ticker over there to the right, the second tale of Egil and Nix, A Discourse in Steel
, releases on June 25th.  It's the sequel to The Hammer and the Blade
, which was reviewed very kindly by many, many reviewers (thanks to all of you).  I'll spare you a list of all of those, but among my favorites is this, from Library Journal:
"Kemp delivers sword and sorcery at its rollicking best, after the fashion of Fritz Leiber's Fafhrd and the Grey Mouser."
Love that.
Anyway, A Discourse in Steel
taps that same vein. Go read the first chapter here and see for yourself!  🙂 Advance copies have gone out to reviewers and reviews are starting to come in.  I'm not going to spare you these (mostly because I'd like for you to buy the book right now, natch), but I'll keep it brief:
Matthew Gill, at Silverpen Scribe, says, "Just try to put it down."
Pete Morrison, at Lightsaberrattling, says, "Dark and damaged heroes have never been so much fun."
OddEngine calls it "A truly enjoyable book…filled with magic and mayhem."
And Being a Big Sandwich (in the running for best blog name ever) says, "Highly recommended for fans of sword and sorcery."
And don't forget: If you order a copy of A Discourse in Steel
before June 25, you can enter the giveaway for one of five signed copies of The Godborn
, my next Forgotten Realms novel.  Details are here.