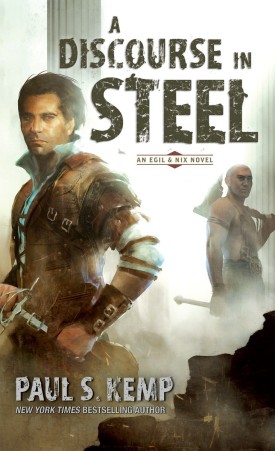 A Discourse in Steel
, the second tale of Egil and Nix.
Egil and Nix have retired, as they always said they would. No, really – they have! No more sword and hammer-play for them!
But when two recent acquaintances come calling for help, our hapless heroes find themselves up against the might of the entire Thieves Guild.
And when kidnapping the leader of the most powerful guild in the land seems like the best course of action, you know you're in over your head…
Praise:
Adventures Fantastic:  "The excitement never stops. The pacing is relentless. Yet at the heart of the book is a story about friendship and loyalty and sacrifice….a fantastic book."
The Founding Fields: "Egil and Nix are back once again kicking serious ass in this sequel"
Mikel Andrews: "This is the fantasy you've been craving.. If you've been dying for some real originality in the fantasy realm – with a scene of revenge that would make even Kick-Ass' Hit Girl do a double-take – then Discourse in Steel is your next stop."
Roqoo Depot: "5/5. A sword and sorcery tale at its best."
Lightsaber Rattling:  "5/5. Dark and damaged heroes have never been so much fun."
Silver Pen Scribe: "enjoyable ride of pure fun fantasy."
Being A Big Sandwich: "It is in the characters, particularly Egil and Nix, that Kemp shines and draws the reader in…The interplay between the two is well-done, and their friendship is the bedrock of the story."
Kobold Press: "This book has all the elements that fans of sword and sorcery should enjoy…The characters are deep and fun to get to know, the story is interesting, and the action is top shelf."
Odd Engine: "filled with new magic and mayhem that makes it a truly enjoyable read."
US/CAN Print
Date: 25th June 2013
ISBN: 9780857662538
Format: Mass Market Paperback
R.R.P.: US$7.99 CAN$8.99
UK Print
Date: 4th July 2013
ISBN: 9780857662521
Format: Medium Paperback
R.R.P.: £8.99
Ebook
Date: 2nd July 2013
ISBN: 9780857662545
Format: Epub & Mobi
R.R.P.: £5.49 / US$6.99