I have had the privilege to contribute to the Star Wars expanded universe with Crosscurrent, a standalone novel featuring the Jedi, Jaden Korr, and its sequel, Riptide. I've also written Deceived, a standalone novel of the Old Republic.
---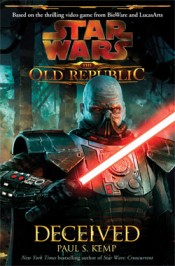 The second novel set in the Old Republic era and based on the massively multiplayer online game Star Wars®: The Old Republic™ ramps up the action and brings readers face-to-face for the first time with a Sith warrior to rival the most sinister of the Order's Dark Lords—Darth Malgus, the mysterious, masked Sith of the wildly popular "Deceived" and "Hope" game trailers.
Malgus brought down the Jedi Temple on Coruscant in a brutal assault that shocked the galaxy. But if war crowned him the darkest of Sith heroes, peace would transform him into something far more heinous—something Malgus would never want to be, but cannot stop, any more than he can stop the rogue Jedi fast approaching.
Her name is Aryn Leneer—and the lone Knight that Malgus cut down in the fierce battle for the Jedi Temple was her Master. And now she's going to find out what happened to him, even if it means breaking every rule in the book.
Hardcover
Publisher:  LucasBooks (March 22, 2011)
ISBN-10:  0345511387
ISBN-13:  978-0345511386
---
The sequel to the New York Times bestseller, Crosscurrent, Star Wars: Riptide continues the story of Jaden Korr, Khedryn Faal, and Marr Idi Shael.
When a ship full of Sith warriors arrived in Galactic Alliance space, the fight to destroy it accidentally uncovered a deadly menace: a long-hidden group of clones, secretly created as insidious weapons capable of wielding the Force and heedless of the differences between light side and dark side. Now the clones have escaped -- and evidence suggests they are flawed by genetic disease and violent madness. Jedi Knight Jaden Korr pursues the clones, hoping to heal them but prepared to destroy them. What he doesn't know is that Sith agents are hot on his heels, determined not only to recover the clones for their Master but to capture Jaden for their own dark-side purposes. In a life-or-death battle, Jaden will confront a shocking reality that will rock him to his core and bring him face-to-face with the question of what makes a man... and a Jedi.
Mass Market Paperback: 336 pages
Publisher: LucasBooks (July 26, 2011)
Language: English
ISBN-10: 034552246X
ISBN-13: 978-0345522467
---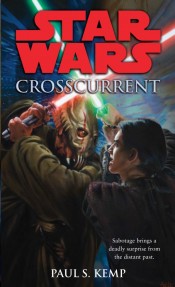 An ancient Sith ship hurtles into the future carrying a lethal cargo that could forever destroy Luke Skywalker's hopes for peace.
The Civil War is almost over when Jedi Knight Jaden Korr experiences a Force vision so intense he must act. Enlisting two salvage jocks and their ship, Jaden sets out into space. Someone—or something—appears to be in distress.
But what Jaden and his crew find confounds them. A five-thousand-year-old dreadnaught—bringing with it a full force of Sith and one lone Jedi—has inadvertently catapulted eons from the past into the present. The ship's weapons may not be cutting-edge, but its cargo, a special ore that makes those who use the dark side nearly invincible, is unsurpassed. The ancient Jedi on board is determined to destroy the Sith. But for Jaden, even more is at stake: for his vision has led him to uncover a potentially indestructible threat to everything the Jedi Order stands for.
In one of the better Star Wars novels in recent memory, Kemp portrays a more intimate adventure focusing on two Jedi and their dance with the dark side.
—Stomping on Yeti
Paul gives us an intimate focus, character- and action-wise, and his action scenes are as cinematical as would be expected from any Star Wars EU novel...keeping the action and suspense constant with short, to-the-point chapters that rocket along, and crafting a story that can stand proudly and strongly on its own without even a glimpse of Canon characters. This is a Star Wars novel that fans of the EU will love, but it's also a novel that will get someone who has never read a Star Wars novel before hooked
—Dave Brendon's Fantasy and Science Fiction Weblog
Mass Market Paperback: 320 pages
Publisher: LucasBooks; Original edition (January 26, 2010)
ISBN-10: 0345509056
ISBN-13: 978-0345509055
---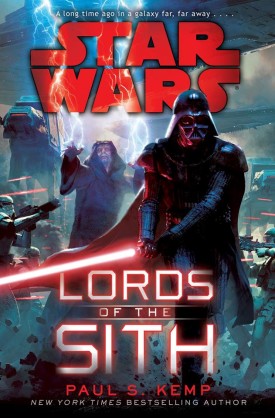 A long time ago in a galaxy far, far away. . . .
 
When the Emperor and his notorious apprentice, Darth Vader, find themselves stranded in the middle of insurgent action on an inhospitable planet, they must rely on each other, the Force, and their own ruthlessness to prevail.
 
"It appears things are as you suspected, Lord Vader. We are indeed hunted."
 
Anakin Skywalker, Jedi Knight, is just a memory. Darth Vader, newly anointed Sith Lord, is ascendant. The Emperor's chosen apprentice has swiftly proven his loyalty to the dark side. Still, the history of the Sith Order is one of duplicity, betrayal, and acolytes violently usurping their Masters—and the truest measure of Vader's allegiance has yet to be taken. Until now.
 
On Ryloth, a planet crucial to the growing Empire as a source of slave labor and the narcotic known as "spice," an aggressive resistance movement has arisen, led by Cham Syndulla, an idealistic freedom fighter, and Isval, a vengeful former slave. But Emperor Palpatine means to control the embattled world and its precious resources—by political power or firepower—and he will be neither intimidated nor denied. Accompanied by his merciless disciple, Darth Vader, he sets out on a rare personal mission to ensure his will is done.
 
For Syndulla and Isval, it's the opportunity to strike at the very heart of the ruthless dictatorship sweeping the galaxy. And for the Emperor and Darth Vader, Ryloth becomes more than just a matter of putting down an insurrection: When an ambush sends them crashing to the planet's surface, where inhospitable terrain and an army of resistance fighters await them, they will find their relationship tested as never before. With only their lightsabers, the dark side of the Force, and each other to depend on, the two Sith must decide if the brutal bond they share will make them victorious allies or lethal adversaries.
Order on Amazon.

Praise for Lords of the Sith
 
"A compelling tale [that] gives us new insight into the relationship between Darth Vader and his master, Emperor Palpatine."—New York Daily News
 
"Endlessly fascinating . . . a tale [that is] not just compelling but completely thrilling."—Big Shiny Robot
 
"The best novel so far in this new era of official canon Star Wars stories."—IGN
 
"Packed with action . . . hard to put down."—Seattle Geekly
---