The War of the Spider Queen is a six-book series of novels set in the Forgotten Realms and featuring the fascinating race of underground dwelling elves called the Drow. I was fortunate enough to be selected to write the sixth and final book of this New York Times Bestselling series.
The War of the Spider Queen is also available in boxed gift sets
of three books each (all mass market paperbacks) and in two trade paperback-sized Omnibus editions, celebrating the 10th anniversary of the series (each of which collects three books of the series).
---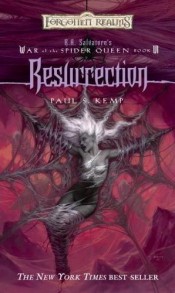 Danifae Yauntyrr, former battle-captive of House Melarn, has come too far to stop now. She has regained her freedom after years of servitude, but has yet to exact her revenge. Though she has gained much, grown in both power and ambition, and enjoys the protection of the powerful draegloth Jeggred Baenre, Danifae still needs to kill Halisstra Melarn. But how can she when she's followed Quenthel and Pharaun into the heart of Lolth's reformed domain, a hellish world of demonic spiders bent on eating each other, and anything else stupid enough to get in their way–including the chosen vessel of Lolth herself.
While Danifae wonders how she'll ever take vengeance on a woman she left behind on the surface of Faerûn, the very target of her burning hatred is close on her heals. Halisstra has come to the Demonweb Pits with a very different agenda. In her hands she holds the fabled Crescent Blade, a sword she believes will grant her the power to kill Lolth herself–but only if they find her before she fully completes her own mysterious Resurrection
The War of the Spider Queen comes to an end. The sixth and final book of War of the Spider Queen. The final volume in the New York Times best-selling saga of civil war and chaos in the darkest part of the Forgotten Realms setting. This latest title drives the civil upheaval among one of the most popular races in the Forgotten Realms setting to its epic conclusion.
Hardcover: 352 pages
Publisher: Wizards of the Coast (April 14, 2005)
ISBN-10: 0786936401
ISBN-13: 978-0786936403
Mass Market Paperback: 384 pages
Publisher: Wizards of the Coast (February 7, 2006)
Language: English
ISBN-10: 0786939818
ISBN-13: 978-0786939817
---