Egil and Nix, the hard-fighting, harder-drinking fortune hunters of The Hammer and the Blade and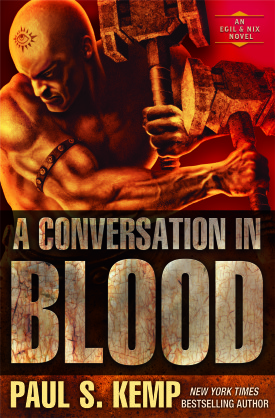 A Discourse in Steel, are back to test their mettle and tempt fickle fate in A Conversation in Blood.
Fantasy fiction has long welcomed adventurous rogues: Fritz Leiber's Fafhrd and the Gray Mouser, George R. R. Martin's Dunk and Egg, and Scott Lynch's Locke Lamora and Jean Tannen have all made their mark. In his Egil & Nix series, New York Times bestselling author Paul S. Kemp introduces a daring new duo to the ranks of fantasy fame—or is it infamy?
Nix is a nimble thief with just enough knowledge of magic to get into serious trouble. Egil is the only priest of a discredited god. Together, they seek riches and renown, but somehow it is always misadventure and mayhem that find them—even in the dive bar they call home. And their luck has yet to change.
All Nix wants to do is cheer Egil up after a bout of heartbreak. And, of course, strike it so rich that they need never worry about their combined bar bill. But when the light-fingered scoundrel plunders a tomb and snatches mysterious golden plates covered in runes, the treasure brings terrifying trouble. Pursued by an abomination full of ravenous hunger and unquenchable wrath, Egil and Nix find all they hold dear—including their beloved tavern—in dire peril. To say nothing of the world itself.
Praise for Paul S. Kemp's thrilling Egil & Nix novels
 
"Most heroes work up to killing demons. Egil and Nix start there and pick up the pace."—Elaine Cunningham, author of The Thorn Trilogy
"Kemp delivers sword and sorcery at its rollicking best, after the fashion of Fritz Leiber's Fafhrd and the Gray Mouser."—Library Journal
 
"Egil and Nix might not be the safest guys to go adventuring with, but they're sure good company."—Ed Greenwood, bestselling creator of Forgotten Realms
"Did I mention how much fun Egil and Nix are? So. Much. Damn. Fun."—Tor.com
Series: Egil & Nix
Hardcover: 288 pages
Publisher: Del Rey (January 24, 2017)
Language: English
ISBN-10: 055339200X
ISBN-13: 978-0553392005
Product Dimensions: 6.1 x 0.7 x 9.2 inches
Available everywhere books are sold.