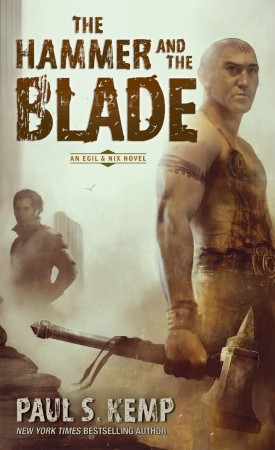 "Kemp delivers sword and sorcery at its rollicking best, after the fashion of Fritz Leiber's Fafhrd and the Gray Mouser."
– Library Journal
"This rollicking tale hooked me from the get-go. Told with zest and humor, this is everything that is good and golden about classic old-school fantasy yarns. It joins my precious bedside shelf of favorite re-reads, 'comfort food' books I turn to again and again. Egil and Nix might not be the safest guys to go adventuring with, but they're sure good company. I'll be waiting for a sequel. Impatiently." – Ed Greenwood, bestselling creator of Forgotten Realms
The Hammer and the Blade, a tale of Egil and Nix (Amazon)
A pair of down-at-heel treasure hunters and incorrigible rogues. Egil is a priest, happy to deliver moral correction with his pair of massive hammers. Nix is a sneak-thief; there's no lock he cannot open, no serving girl he cannot charm. Between them, they always have one eye open for a chance to make money – the other eye, of course, is on the nearest exit.  Nix's idea?
Kill a demon.
Steal the treasure.
Retire to a life of luxury.
Sounds easy when you put it like that.
Unfortunately for Egil and Nix, when the demon they kill has friends in high places, retirement is not an option.
Read the first fifty pages below:
The Hammer and the Blade is a gritty, rollicking yarn that captures the essence of sword & sorcery adventure. A tale of lost treasures and lusty demons that Egil and Nix are sharing right now somewhere, bellied up to a tavern bar with Fafhrd and the Gray Mouser, Conan, and, of course, Kemp's own Erevis Cale — James Lowder, bestselling author Prince of Lies and Knight of the Black Rose
Most heroes work up to killing demons. Egil and Nix start there and pick up the pace. There's enough page-turning mayhem here to sate the most avid sword & sorcery fans, but the heart and strength of this story is a friendship that goes deep and rings true." – Elaine Cunningham, author of The Thorn Trilogy
"Did I mention how much fun Egil and Nix are? So. Much. Damn. Fun. … I loved it. No, seriously, I really did. The Hammer and the Blade is about as sword and sorcery as it gets."
– Alex Brown, Tor.com
"Kemp tells it with cheeky characterisation, snappy dialogue and some breathless action sequences."
– Dean Evans, SFX Magazine
"A fast-paced sword-and-sorcery adventure, action-packed and dark, with some great interpretations of classic fantasy tropes and themes. Highly recommended if you like your sword and sorcery no-holds-barred, dark, action-packed and with an insouciant sense of humour."
– Civilian Reader
"[Kemp's] voice is very engaging, the characters came across as very believable and I want to know more about the world they inhabit."
– Rob H. Bedford, SFFWorld.com
"The Hammer and the Blade provides an enjoyable afternoon of reading (with more than a few twists to keep even long term readers' predictive powers satisfied). A likeable duo, some inspired action – what more can you want from a sword and sorcery novel?"
– Jacon Topp-Mugglestone, Drying Ink
"When things heat up. Kemp gives us sequences that wouldn't look out of place in an Indiana Jones film, with the undead and vengeful wraiths only proving to be half of the fun. There is always something happening and that's just what a 'Sword & Sorcery' novel needs to be all about. Kemp really delivers the goods on that score."
– Graeme Flory, Graeme's Fantasy Book Review
"A fast paced ride full of disturbing detail, gluttonous gore and fantastic fun. Egil and Nix may not be your traditional heroes, but these two men, as close as brothers serve to check the excesses of the other's personality. The ending was both fulfilling and disturbing, and I hope we get to revisit the adventures of Egil and Nix in the near future."
– Lightsaber Rattling
"The Hammer and the Blade is swords and sorcery at its best. 5*****"
– Stefan's Bookshelf
"The Hammer and the Blade is old school Sword and Sorcery with an appealing pair of protagonists whose feats of derring-do and likeable personalities kept me turning the pages."
– Paul Weimer at The Functional Nerds
"Swords & Sorcery at its best for a modern audience, The Hammer and The Blade echoes the magic of the old Dragonlance novels and takes the reader on a fast-paced adventure against sorcerors and demons through some of the most dangerous locations in the world."
– Shadowhawk, The Founding Fields
"An awesome fantasy novel shows that Kemp can work his magic in almost any setting, be it in a galaxy far far away, the Warhammer World or in his own creation. A rollercoaster ride that is not to be missed."
– Bane of Kings, The Founding Fields
"[I wouldn't] hesitate in picking up on future novels featuring Egil and Nix … I'd gladly take part in any adventure those two set out on, and treasure every blessed moment."
– Matthew Gill, Silver Pen Scribe
"If you like your fantasy to have stakes that are more personal than epic, and if you like heroes who are short on morals, then The Hammer and the Blade is for you. You'll get a heavy dose of action and adventure, and a plot that will make it hard to put this book down."
– Ryan Frye, Battle Hymns
"To all intents and purposes this is a buddy movie waiting to happen, and I'm looking forward to reading the next installment. It kept my attention and interest throughout and has obvious potential to continue and develop."
– Rebekah Lunt, The British Fantasy Society
"fans of fantasy will find plenty to like about Nix, Egil and the cast of secondary characters that populate Kemp's fictional world. Readers looking for a new sword and sorcery series will want to check this book out."
– Carli Spina, Strangely Literary
"This is a sword and sorcery novel that reminds you why sword and sorcery is fun in the first place. In many ways it's a breath of fresh air. It's fast paced, smart, funny, and at times extremely dark."
– Adventures Fantastic
"There are so many things to like about this book. The characters are delicious in the way that they are under described, but never underdeveloped. The writing shows a wit and polish rarely seen these days. I knew Kemp was good, but set free in a world of his creation, he exceeds, excels, and is excellent!"
– Cape Rust, Geek-Life.com
"Kemp is an excellent write of sword and sorcery that understands its tropes so well that he is able to reinvigorate it with new themes that will resonate with modern readers."
– John Ottinger III, Grasping for the Wind
UK/RoW
5 Jul 2012
416pp B-format paperback
£7.99 UK
ISBN 9780857662446
US/CAN
26 Jun 2012
416pp mass-market paperback
$7.99 US $8.99 CAN
ISBN 9780857662453
eBook
26 Jun 2012
£4.49
ePub ISBN 9780857662460