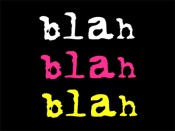 I came across this article on blurbs and blabs today and it made me wonder what effect, if any, blurbs have on potential readers.  You mind helping me answer that? Has a blurb by an author you enjoy piqued your interest in another author's work?  Has a blurb influenced your decision to buy or not buy a book?
To be clear, I plan to continue asking for blurbs and giving them when asked (assuming I have time to read the book in question and dig it), but I wonder about their effect.  A blurb has never influenced my interest in a book, much less influenced a decision to buy or not buy, but I'm not sure if my view is typical.
So, thoughts?  Help a brother out.