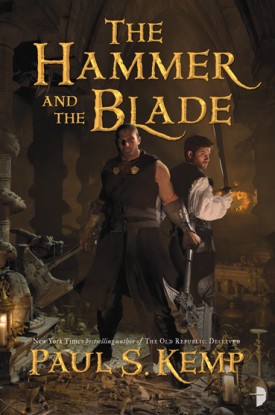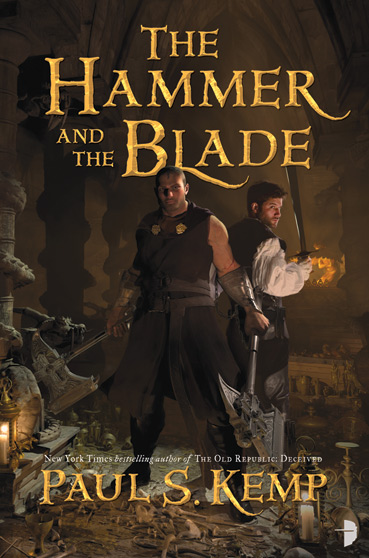 As many of you know, last year I announced that Del Rey would be publishing the third and fourth Tales of Egil and Nix (A Conversation in Blood and the yet to be titled fourth installment).  The first two Egil and Nix stories, The Hammer and the Blade and A Discourse in Steel, were originally published by the excellent folks at independent publisher, Angry Robot Books.  Hammer and Discourse resonated with readers, sold very well, and were well received by reviewers. I have all of you to thank for that; so thank you. 🙂
And there's more.
I'm pleased to announce that Del Rey is publishing not only the third and fourth Tales of Egil and Nix, but has also reached a deal with Angry Robot Books pursuant to which Del Rey will reissue Hammer and Discourse ahead of the release of A Conversation in Blood. These new editions of Hammer and Discourse will get new cover art, of course, and I genuinely can't wait to see that.
This is a big deal for the series, in that it will give it (I hope) even greater visibility and familiarize even more readers with the boys from Dur Follin.  Obviously, I'm very pleased by this and grateful to the teams at Angry Robot and Del Rey for working this out.
For those who may not know, the Tales of Egil and Nix are old school sword and sorcery informed by modern sensibilities. Library Journal had a review similar to many, when it said of them,
"Kemp delivers sword and sorcery at its rollicking best, after the fashion of Fritz Leiber's Fafhrd and the Gray Mouser."  
That tickled me in the tingles, of course, since Leiber is one of my idols. These books are the purest reflection of what I want to do with my writing. They're my attempt to capture the spirit of adventure, the sensawunda, the goddamned fun of Leiber's Fafhrd and the Mouser stories, the grit and sweat of Howard's Conan stories, and the pacing and wit reflected in films like Raiders of the Lost Ark.
The new version of Hammer and Discourse will release on June '15  September 1, 2015 (the Angry Robot versions of the books will stop selling in the U.S. and Canada on  June 30, 2015). Importantly, Angry Robot will continue to publish the first two Tales of Egil and Nix in every other country in the world other than the U.S and Canada.
Now, this means Conversation and Egil and Nix IV will not release until '16.  I know that's a bit of time to wait for those of you who've been following along, but we want to take the time to do this right and reach everyone we can ahead of the release of Conversation and Egil and Nix IV.  I hope you'll stick with me and the boys 'til then.
Oh, and in the meanwhile, there will be an all-new Egil and Nix short story entitled, A Better Man, appearing in Ragnarok Press's anthology Blackguards.  It's a story I think you'll enjoy muchly, so I hope you'll check it out.