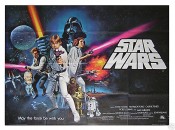 So, Star Wars: The Complete Saga
(all six movies) will be released on Blu-Ray later this year. It's been over thirty years since A New Hope was released, and Star Wars appears to be as popular as ever.
Even more than that — fiction in the Star Wars Expanded Universe continues routinely to hit bestseller lists, The Clone Wars television series is a huge hit, and Star Wars references appear so often throughout the culture that you'd have to live under a rock not to know the name Darth Vader.

What do you think accounts for the lasting effect of what is, indisputably, a worldwide cultural phenomenon? I'm interested in hearing your thoughts.  I've tried to answer this in interviews from time to time and have never come up with an answer I'm happy with.  So I turn to you: What do you think?