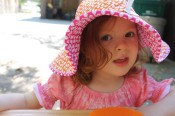 Jen and I decided to share some of the details of my daughter's recent medical situation. We're doing so because the condition is rare and as we were going through what I'm about to relate, we pored over the internet looking for any information that might fit the facts and help us solve Delaney's problem.  There wasn't much, so we decided to put this out there as an aid to any parents whose child presents with similar symptoms.  So….
The Friday before Father's Day in 2014, my two year old daughter and I were playing outside.  She wasn't quite herself, though, and eventually said she had a headache and asked to go inside.  We did, she sat on the couch and seemed fine, and I didn't think much about it until the next day, when she complained about pain above and slightly behind her right ear.  Over the previous couple of weeks a vicious cold virus had flattened everyone in the house, so we feared she had developed an ear infection. We took her to the "doc in the box" at CVS and the nurse practitioner there diagnosed her with a double ear infection, prescribed an antibiotic, and off we went, thinking the problem would soon be solved.
The next day, Father's Day, she woke with pronounced torticollis (head tilt) to the right and was screaming over the pain in the occipital area of her head (kind of above and behind her right ear).  My wife immediately took her to the emergency room at a local hospital.
The attending physician in the ER was, in a word, an idiot.  He checked her ears and said he saw no evidence of an ear infection (either the attending was wrong or the nurse practitioner from the day before was wrong, because the antibiotics would not have gotten rid of it in a day).  He didn't image her head or neck.  Instead, he assumed the pain and torticollis was a muscle spasm (which can happen and is very painful in children) and then forcibly turned her head to see if she could, in fact, turn.  She screamed in pain at this but did turn somewhat. This, in the attending's mind, confirmed the diagnosis of muscle spasm.  We took her home. But it was not a muscle spasm.
Oh, and here's the thing for any parent whose child presents with torticollis:  UNLESS YOU KNOW THE UNDERLYING CAUSE OF THE TORTICOLLIS, DO NOT FORCIBLY ATTEMPT TO TURN THE CHILD'S HEAD OR ALLOW ANYONE ELSE TO DO SO.  IT CAN LEAD TO CATASTROPHE, EVEN DEATH, DEPENDING UPON THE UNDERLYING CONDITION.
The next day the excruciating episodes continued.  The pain was intermittent, and the episodes lasted from a few minutes to a couple hours.  It was agonizing.  When the pain came on, she would scream, need to be held, and wanted to lay in her crib until it passed.
We put her on Motrin and Tylenol to help with the pain and called her pediatrician, who scheduled an MRI.  At this point, the fear was a brain tumor.   Thankfully it was not a brain tumor.  The MRI was normal, but Delaney's pain was unrelenting.
We stayed in close contact with Delaney's pediatrician.  Now, Jen and I can both be charming pains in the ass when we need to be, and advocating for our pain-stricken daughter probably made us a little less charming and a little more ass (or at least it did me), but so it goes.  Sometime that week or next (my memory is fuzzy), the pediatrician sent us in for X-rays, looking for pharyngeal abscesses and other terrifying things.  The X-rays were normal.   At some point the pediatrician put her on a mild muscle relaxant.  It did very little.
So we're a couple of weeks into the symptoms and have an otherwise tough, precocious two year old in agony for much of the day, and no one seemed to have any idea what was wrong with her.  The uncertainty and inability to do anything for her was heartbreaking.
Now, we're fortunate to call a few doctors and hospital executives friends and neighbors, so we reached out.  One of our great friends put us in touch with a senior executive at another local hospital, who, in turn, put us in touch with a pediatric neurologist who specialized in headaches in children.
She was wonderful but her exam revealed essentially nothing new.  She confirmed that there'd been no neurological damage and suggested we try the muscle relaxant we were already trying.  She arranged for a CT Scan of Delaney's ear and an ultrasound of her neck, both of which would take place Saturday.  The CT of the ear and U/S were both normal. We had nothing.
That weekend was terrible for Delaney and I peppered the neurologist with emails, telling her that Delaney was worsening and that we needed to do something.  I think the Neurologist scoured the literature on these symptoms over that weekend and on Sunday she sent me a response, saying she wanted us on Monday to see a Pediatric Neurosurgeon and have Delaney evaluated for rotatory subluxation of her cervical spine.
I want to stop here for a moment, as the term "subluxation" sometimes calls to mind chiropractic medicine.  Now, chiropractic medicine has its place, but (a) chiropractic subluxation theory (this is the theory that spinal subluxations cause anything from cancer to diabetes) is pure quackery, and (b) if your child has a rotatory subluxation of her cervical spine, DO NOT TURN HER OVER TO A CHIROPRACTOR FOR ADJUSTMENT.  The potential for harm is enormous.
Anyway, we saw the neurosurgeon on Monday and, based on Delaney's clinical presentation, he didn't think she had a subluxation. She'd had no trauma, after all, and a two year old with a subluxation in the absence of trauma made little sense.  Still, he eyed the MRI (which shows bone poorly) and thought maybe he saw an irregularity there. After consulting a radiologist, he decided to order a CT of the cervical spine to rule out a subluxation.  We thought he would do this stat. Instead, for reasons we still don't understand, it was scheduled for two weeks later.
Two weeks with my daughter screaming in pain everyday?  That didn't work for us. Friends helped us move up the appointment and we took Delaney in for the CT on Friday that week.  After the CT, we were allowed to bring her home.  The hospital called that evening, telling us to get Delaney back immediately because the CT showed a rotatory subluxation and she needed to be admitted.  We did and she was.
We soon had a name for her condition — Grisel's Syndrome.  Essentially, Grisel's is the non-traumatic subluxation of the atlantoaxial joint formed by C1 and C2.  Basically C1 slides and rotates off of C2, causing the head to tilt in the direction of the slide. And in Delaney's case, we think the subluxation also pinched the occipital nerve, which caused her agonizing pain behind/above her right ear.
So, if trauma did not cause this, then what?
In Delaney's case, it was that upper respiratory infection I mentioned earlier.  A cold. I shit you not.
It seems that in rare cases an upper respiratory infection causes inflammation in the tissue of the upper neck, causing the ligaments that hold the vertebrae in place to slacken.  At that point, for some reason, and only in some children, the upper spine becomes vulnerable, and a sneeze, a cough, or a sudden jerk of the neck or head can cause a rotatory subluxation.  That's what happened with Delaney.
Now, rotatory subluxations come in four different types, type 1 through 4. The amount of displacement between the subluxed vertebrae is what determines the type.   Delaney had a Type II or Type III, which meant there was a lot of displacement.  She'd had it many weeks by then, and everything we read said that the longer the situation persisted, the more difficult it was to correct without surgery.  Obviously we found this alarming.
But at least we knew what she had.  We just needed to fix it.
Unfortunately, this situation appears to be rare enough that the protocol for treatment isn't carved in stone.  Worse, in this case the neurosurgeon we'd seen the first time went on vacation and handed us off to a colleague.  This colleague seemed disinclined to do much of anything.  For her first two days in the hospital the only treatment she received was a powerful pain reliever and a powerful muscle relaxant. At this point, the doctor was hoping the subluxation would self-correct (many do, but those are usually Type 1 subluxations, not IIs or IIIs).  Part of the issue here was her age, which made some treatments difficult.  Were she younger or older, they would have done traction. But they told us that traction was not an option for a two year old because she simply could not tolerate it.
We know now that this course of treatment was a mistake (she needed much more aggressive treatment and she needed it fast).  But I think perhaps we accepted it because we hoped to have this fixed in the least invasive, least uncomfortable way for Delaney.  On the third day in the hospital, the doctors put her in a soft collar.  On the fourth day, they put her in a stiff cervical collar (an Aspen collar).  No improvement.  On the fifth day, they sent us home telling us that this could take "up to a month" to self correct.
Again, in hindsight, we learned that this was profoundly wrong.  As I mentioned above, the longer a subluxation lingers, the more difficult it is to correct, short of surgery.
A couple weeks later (after one follow up appointment) we saw the neurosurgeon who'd seen her the first time (he'd returned from vacation) and he told us the subluxation had to be reduced (this is the medical term for realigning the vertebrae) as quickly as possible and proposed a "closed reduction."
A closed reduction involves the child being completely sedated and the neurosurgeon pulling/manipulating the child's head/neck in order to reduce the displacement.  This is done while watching the bones move with an imaging device (in Delaney's case a flouroscope).
Delaney's closed reduction was a success, but the procedure only partially resolved the subluxation. It did, however, end her pain, which was a HUGE benefit. She continued to wear the stiff collar after the procedure and the doctor (it seemed) hoped that the now somewhat less displaced subluxation would self correct.  An X-ray a week later showed that it hadn't.
One week later we saw the neurosurgeon in clinic and had another CT.  The subluxation had persisted and he offered us two options:  Another attempted closed reduction followed by stabilization in a pin halo, or spinal fusion surgery.  Of the two options, he seemed to think fusion was the best course. But Jen and I had decided that we would proceed with fusion surgery only if we had no other course (from what we've read and heard, and apart from the possible complications associated with the surgery,  even a successful procedure would result in her losing 40-50% of the side-to-side rotation of her head).
We sought a second opinion.  And a third.
And the third time was the charm. We consulted with a pediatric neurosurgeon at Mott's Children's Hospital at the University of Michigan and he suggested that it was too soon to jump to surgery.  Instead, he recommended a closed reduction under CT observation, or traction via a pin halo followed by stabilization in a halo vest.  If that approach didn't work, surgery would be the only option left, but he thought the chance of success was good.
For a whole host of reasons, we found this a more desirable course. Delaney was admitted to the hospital again, sedated, and a pin halo affixed to her head via twelve pins.  A traction device with a five pound weight was attached to the halo and she endured five days of that: unable to get out of bed, with a weight pulling her head upward.  It wasn't easy for her or her mom (who spent every night in the hospital) but they did it.
At the end of that period, a CT scan revealed that the subluxation had been reduced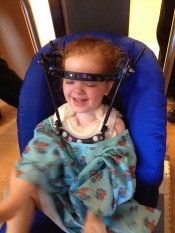 entirely. The ligaments would probably still be lax, of course, so she was fitted with a halo vest with rods, making it impossible for her to move her head.  That's where we are today. Essentially, it took two months from the onset of symptoms to get appropriately aggressive treatment.  We hope it proves to be enough.
The halo vest will remain on for six to twelve weeks, after which she'll continue to wear the stiff collar for a time.  If there's a recurrence, we'll have to go to fusion surgery (because that would suggest ongoing ligament laxity which is too dangerous to leave alone).  But we're hoping there won't be.  Fingers crossed.
Meanwhile, this has done nothing to dim Lady D's spirit (the girl is a spitfire) and she's already tooling around in the halo like a crazy person (with Jen and I hovering around her to ensure she doesn't fall or trip).  So there's that.  🙂
UPDATE:
Lady D wore the halo like a trooper for six weeks, then went to a rigid Aspen collar for a time after that.  Follow ups show that everything remains in alignment.  As of today, April 10, 2015, she is just a very active three year old. We're soon to head to a water park and the doctors have told us it's okay for her to go down the waterslides, but to exercise good judgement.  Here's D holding a copy of my latest book.  🙂