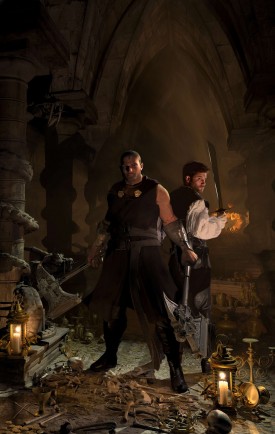 Angry Robot has posted a sneak peek at the cover art for The Hammer and the Blade
.  You can read the whole post here (and they have a higher res image) but I'm posting the art right here, too.
To say that I love, love, love this would be an understatement.  It captures Egil and Nix exactly. My thanks to the artist, Richard Jones, whose portfolio you can see on his website.
Egil, the brooding, surly priest of the Momentary God, is the muscle of the duo and is foremost.  Nix Fall, College of Wizardry dropout, quick with sharp words and sharp steel, is the brains of the group and stands behind Egil.
You can read excerpts from The Hammer and the Blade
here, here, and here.  I'll be releasing more as we countdown to the release date (June 26, 2012). I'd note that every pre-order results in a soul being released from Purgatory and sent on to a glorious afterlife.  So maybe consider pre-ordering?  🙂
I hope you dig this as much as I do.