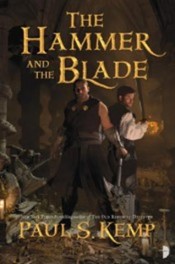 A short post to say that I received word today that The Hammer and the Blade
, the First Tale of Egil and Nix, has gone back for another printing.  This warrants the rare huzzahwoot.  Accordingly, HUZZAHWOOT!
My sincere thanks to all of you who've talked up the book, reviewed it, recommended it, etc.  It really means a lot and I appreciate it enormously.
And hey, in related news, the Second Tale of Egil and Nix, A Discourse in Steel
, was released on June 25th and even now awaits your eyes.  Have a read, I say.
There is a Third Tale of Egil and Nix forthcoming, to be titled, A Conversation in Blood.  Tentative release date is June/July of next year.