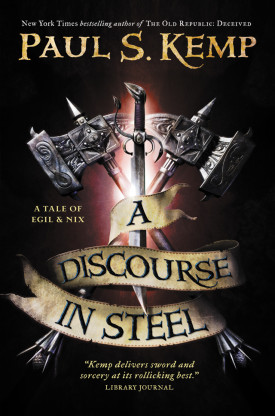 Many of you are here from external links, which probably means you haven't heard of me before (woe!), which, in turn, makes my heart ache with a heretofore unknown degree of sadness (more woe!).  So, while you're here getting your outrage on, or wondering what the fuss is about, have a look around at my other blog posts, too.  At minimum, please read my response to the silliness elicited by this post, and perhaps also read this piece in the WSJ:  Camille Paglia:  A Feminist Defense of Masculine Virtues.   If you do, I'll give you a big manly man man-hug.
So, I write masculine stories. And what I mean by that is that they feature characters whose behaviors and characteristics are what I consider traditionally masculine. They're almost hyper-masculine, really.  Further, those masculine behaviors and characteristics are shown (implicitly or explicitly) as virtuous.  Essentially what I'm often trying to show are characters who embody the Roman concept of virtus.
Now, that's not true of all my characters, of course, but it's true of many of them.  As a rule they're men. They drink a lot. They sometimes womanize. They answer violence with violence.  They're courageous in the face of danger. They're stoic in the face of challenges/pain.  They have their emotions mostly in check. And they act in accordance with a code of honor of some kind.  Thematic elements in a lot of my work that square with this involve the obligations of fatherhood, the depths of friendship between men who've faced death together, the bonds of brotherhood (figuratively).  Hell, there are even damsels in distress sometimes (though I like to play with that notion and things aren't always what they seem; see, e.g., The Hammer and the Blade).  The price of faith and the difficulties of redemption appear in a lot of my work, too, but that's neither here nor there for purposes of this blog post.
Now, why do I write stories that focus on those elements and not others?  Is it because I'm a throwback Neanderthal pig?  It is not!  😉
The answer is pretty basic.  Like many of you, when I was young I read a lot.  Often what I read featured the kind of characters and storytelling I describe above — masculine stories, stories with characters who demonstrate virtus (I'm looking at you Le Morte d'Arthur, and you, Conan).  And what I read shaped how I viewed myself, how I viewed the world and my place in it, and indirectly (and along with a lot of other obvious things) helped shape and refine my moral code — Honor, courtesy, respect for self and others, even (a kind of modified) chivalry.  It's served me well in life.  So I try in my own small way to carry that torch forward and provide the kind of exemplars of virtus that I found and find so compelling.  I don't think there can ever be too many.  And that's it.  Well, that's almost it.
Let me share an anecdote (right, right, an anecdote; I know).
When the Costa Concordia sank, there were stories of panicked men who rushed into the lifeboats ahead of women and children.  I mentioned this on Twitter and said how I found it entirely inconsistent with the idea of honorable manhood, which (in my view) requires that women and children go first.  A follower took issue with this, essentially arguing that there was nothing inherently unmanly about it and that equality of the sexes required that some other method be instituted for selecting the order in which people would be evacuated.
Now, this person was well-intentioned, but I couldn't disagree more strongly. The comment illustrated for me a cultural trend that runs counter to the virtues I try to highlight in my work (and live in my life).  So I write, and I tell stories about men who would never run ahead of women and children on a sinking ship, and I hope that some readers internalize that notion and live it out if they're ever called on to do so.
Obviously, the kind of stories I write aren't for everyone, but I'm okay with that.  Lots of folks seem to like them just fine, and if they're not for you, there are plenty of other choices out there.  But if they are, well, then nice to meet you.  🙂
Now, the internet being what it is, I'm sure someone somewhere will read this and conclude something about me personally.  E.g., I am a throwback, Neanderthal pig, or I must be religious, or conservative in my politics, or uneducated in women's studies, or maybe I'm unaware of my straight, white, affluent-guy privilege,  have never heard of the male gaze, have homosexual tendencies (cuz all the "man stuff," natch), support the Patriarchy, or whatever.  Love you, Internet!  Never stop being you!
But just to head off some of that: The reality is that I'm a partisan Democrat (as anyone who follows my Twitter feed knows quite well), am pro-women's rights, am pro-LGBT rights, am (at best) agnostic, and am quite aware of my privilege (though the term is profoundly overused, IMO),  I'm also a graduate of one of the finest (and most progressive) colleges in the world, so I've had plenty of exposure to the kind of academic scholarship you — yes, you there in the sweater — are going to be tempted to trot out to explain how I Just.  Don't. Get. It.
But I do.  I simply reject the idea that this is zero sum, or that showing traditionally masculine virtues is anti-woman or anti-anything. It isn't.  By providing exemplars of certain behaviors and characteristics that I consider virtuous, I am not thereby asserting that other behaviors and characteristics are necessarily non-virtuous.  E.g., I think it's great for a man to be empathetic and show his feelings or otherwise demonstrate sensitivity.  Nor does it mean that I particularly value traditional feminine virtues in women.  In fact I appreciate strong women with strong opinions (as opposed to demure, quiet women).  Sidenote:  Aaannnd someone somewhere just read that and said/thought:  "Ha!  How very nice that he appreciates strong women. We don't need his permission or appreciation."
I agree!  It's just an observation, nothing more.
Anyway, there you have it and done is done.  🙂