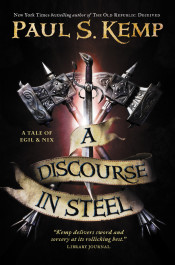 In six days, on June 25th, the next tale of Egil and Nix, A Discourse in Steel
, will hit shelves.  I hope you'll check it out.  It's my sincere hope to be writing about these two for many, many years.
But hey, maybe you're on the fence about starting a new series?  If so, let me point you to Chapter One, so you can read it and get a feel for the fellas.  What?  That's not enough of a reason?  Well, how about ten more then?
Six days. I am not counting down the days (I totally am counting down the days).