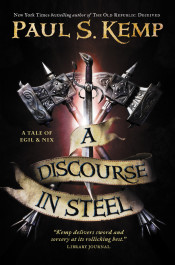 Well, today is the day.  The second tale of Egil and Nix, A Discourse in Steel, hits shelves.  Huzzah! Discourse is, of course, the follow up to The Hammer and the Blade
(which Library Journal called, "Sword and sorcery at its rollicking best.").
I plan to spend the morning chewing my fingernails, the afternoon wallowing in despair, the evening drunk on whiskey, and the small hours shouting my futile rage at the uncaring stars.
But I hope that you'll spend the day visiting with the boys from Dur Follin.  Here are ten reasons you should.  And here's the story behind the story of the book.  Still not convinced? Well then, here are some quotes from some of the glowing reviews the book has already received:
Adventures Fantastic:  "The excitement never stops. The pacing is relentless. Yet at the heart of the book is a story about friendship and loyalty and sacrifice….a fantastic book."
The Founding Fields: "Egil and Nix are back once again kicking serious ass in this sequel"
Mikel Andrews: "This is the fantasy you've been craving.. If you've been dying for some real originality in the fantasy realm – with a scene of revenge that would make even Kick-Ass' Hit Girl do a double-take – then Discourse in Steel is your next stop."
Roqoo Depot: "5/5. A sword and sorcery tale at its best."
Lightsaber Rattling:  "5/5. Dark and damaged heroes have never been so much fun."
Silver Pen Scribe: "enjoyable ride of pure fun fantasy."
Being A Big Sandwich: "It is in the characters, particularly Egil and Nix, that Kemp shines and draws the reader in…The interplay between the two is well-done, and their friendship is the bedrock of the story."
Kobold Press: "This book has all the elements that fans of sword and sorcery should enjoy…The characters are deep and fun to get to know, the story is interesting, and the action is top shelf."
Odd Engine: "filled with new magic and mayhem that makes it a truly enjoyable read."