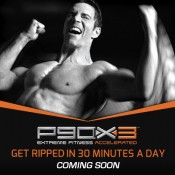 (Editor's note:  After you've read this entry, you can read my review of the Strength Phase of P90X3 right here; in fact, all my fitness-related posts can be found by clicking one of the tags on this post).
So, I've done P90X, P90X2, thrown in some Insanity (you can read my earlier fitness related entries here; they're gold, Jerry!  Gold!), and I received P90X3 a few days ago. I had good results with the earlier programs and I thought I'd share some impressions of P90X3 after my first couple days.  These are very preliminary impressions, mind, based only on reading the materials and doing a few of the workouts.
P90X3's catchphrase is "Fitness Accelerated" and it is, in fact, accelerated.  The workouts are only thirty minutes long, and that includes a warm up that takes a few minutes.  That does not, however, include the cool down, which can run anywhere from three to six minutes.  Obviously the breaks between moves are necessarily minimal, so it's pretty much go-go-go (it isn't Insanity level go-go-go, though, and that's actually a good thing in my book; Insanity is brutal, which is awesome if you hate yourself :-)).
If a short warm up isn't your cup of whiskey, there is a longer one available: an optional workout called "Cold Start," which you can stick in prior to any of the other workouts.  Essentially it's twelve minutes of stretching, yoga, and mild exercise designed to warm you up on those days when you don't want to hit the "real" workout without prepping your body a bit more.
Anyway, the thirty minute workout time is very appealing, provided, of course, that the workout itself is challenging and will ultimately bring the results you want.  Having done the program only a couple days, I obviously can't speak to long term results, but I can speak to challenging.
I've done Total Synergistics and Agility X (using Cold Start once, before Total Synergistics) and I found both very challenging.  Tony packs a lot of work into the thirty minutes.  Total Synergistics is a full-body workout (kind of like Total Body from P90X2 or Core Synergistics from P90X) and Agility X is a cardio/plyo/speed routine that involves jumping at/on targets with a fair degree of precision (I think this may borrow from Insanity: The Asylum, but I've never done that so couldn't say for certain).
So, I hear you asking, are these workouts as difficult as P90X, P90X2, or Insanity?  Well, I think they're damned close, and they do it in half the time.  As I type this, I'm sore all over from Total Synergistics, and Agility X left me several times with my hands on my knees, gasping.  I consider those good signs and my hopes are high for the program.  I love the shorter time frame.  Love. It. Really makes it easier for me to fit the workout into the schedule.
Too, it looks to me that P90X3 has much more in common philosophically with P90X2 than it does with P90X, in that every move is synergistic, recruiting from lots of muscle groups all at once, and is designed around the idea of functional fitness (to be clear though, unlike with P90X2, the only equipment you need for P90X3 is a pull-up bar and dumb bells). Personally I like that approach much more than muscle isolation, but YMMV.   P90X3 goes a bit further down that road, too, in that the resistance workouts don't appear to be limited to distinct muscle groups (i.e., Arms and Shoulders,  or Legs and Back, etc.), as was the case with the earlier programs.  Instead, P90x3 seems to work just about everything in various ways over the course of the program — a more holistic approach to the resistance component, I suppose.  Again, synergistic exercises.  Functional fitness.
Anyway, my verdict based on very incomplete data is this:  So far, I really like it and I look forward to continuing.  I'll provide updates later on as I get deeper into the program.
If you have questions, I'm happy to answer them.