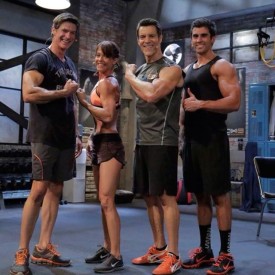 You can read my previous fitness posts here, including my early reviews of P90X3.
I purchased P90X3 when it came out and went six weeks into it. I like it a lot and recommend it.  The workouts are tough and, at thirty minutes, are easy to fit into a busy schedule.  That said, I'd done P90X and P90X2 before starting P90X3, and while doing P90X3 exclusively I found that I missed some aspects of those other programs — the tough hour long isolation workouts of P90X, and the hour-long full body athletic training workouts of P90X2. But I also really liked many of the workouts from P90X3.  Hell, I even liked (for some value of 'like') the workouts in Insanity.  What to do, what to do?  Well, I decided to change course and develop a hybrid program that incorporates workouts from all of those programs.
So, here you have the monster of all hybrids:  A P90X-X2-X3 Hybrid, with some Insanity sprinkled into the mix.
Essentially what I tried to do was take the base structure of the P90X program and swap in workouts from the other programs where appropriate.  So there's some version of Chest and Back/Arms, Shoulders and Tris/and Legs and Back each week, together with one day of Yoga, and two days of cardio and/or power workouts.  My goal was to provide for maximum variety, utilizing the workouts that I think are the best from each of the programs. There's no Foundation Phase, as you'd find at the beginning of X2 and X3, because I don't need that at this point.  My base and core are plenty strong so this schedule just jumps right into the bread and butter workouts.
I had a few principles I tried to follow.
First, I wanted two or more P90X3 workouts each week (because the 30 minutes is so great for scheduling).  One of these is always P90X3 Yoga, mostly because I don't love Yoga particularly, and thirty minutes of it is great for me.
Second, I wanted no more than two Insanity workouts per week. Insanity is a great program for transforming your body (as are P90X and X2 and X3, for that matter) but I don't need to transform my body at this point. I'm looking for maintenance and more or less incremental gains in strength and definition.  Insanity is hard on your body, especially on the knees and back, so this schedule uses Insanity workouts sparingly to avoid wear and tear.
Third, I eliminated from the mix the workouts I thought paled in relation to their comparable workouts from other programs.  So, for example, you won't see KenpoX in the schedule below (because MMX from P90X3 is vastly superior). You won't see Plyometrics from P90X (because Plyocide and Triometrics, from X2 and X3 respectively, are superior). And you won't see X2's Arms and Shoulders, because the various alternative workouts from the other programs are superior.  You also won't see an Ab Ripper because the various X2, X3, and Insanity workouts make it redundant, IMO.
Fourth, I allow myself to swap in alternatives if the mood strikes or the schedule requires/allows.  I don't do this often, but if a Yoga day falls on a weekend when I have more time, I might swap in X2's hour long Yoga routine (a very good one) for X3's half hour Yoga routine. Or if I'm really sore or otherwise pressed for time, I might swap in CVX (from X3) or Agility X (also from X3) for one of the Insanity workouts.
Fifth, I have "rest day" listed for each day seven in the cycle (and days 6 and 7 during the PAP phase at the end).  I usually do exactly what it says on the tin and just rest, but if I'm feeling especially good or want a stretch/mobility workout, I'll throw in Dynamix (from X3), Recovery and Mobility (from X2) or X-stretch (from P90X).
So that's that.  Below is a pdf of the schedule I'm using.  Feel free to use it if you like. I'm currently on week four and digging it so far.  If you've been crazy enough to buy each of these programs (as I've been, obviously), I hope you find this useful.
P90X-x2-x3-insanity-hybrid(3-6-14)