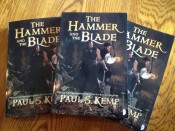 I'm holding a giveaway of two signed Advance Reader Copies (ARCs) of The Hammer and the Blade (Amazon
, B&N), my sword and sorcery novel forthcoming from Angry Robot Books.  That's them in the picture and they look great.
To enter the giveaway, just leave a comment to this blog post.  As always, please enter only once and use a username that's reasonably distinctive.  I'll choose two entrants at random next Friday at noon and announce them on the blog.
As to shipping costs:  I'll bear the cost of shipping to U.S. addresses.  If you're international, I'll bear the first $5USD of the international shipping charges, but you'll have to Paypal me the difference (if any).
So, I hope you'll enter.  It's a good book and you'll enjoy it.  Meanwhile, excerpts from The Hammer and the Blade are available here, here, here,  here, and here.  Two early reviews of the novel are here and here.
See?  They liked it.  So will you.  🙂