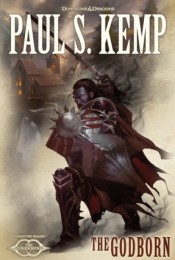 I've been getting a lot of email about this recently, so I'm going to change my usual MO for e-signings and go ahead and start The Godborn
e-signing now.  If you choose to participate, I will mail your signed copy of The Godborn
as soon as I have some copies in hand.  I'm hoping to have some from the warehouse soon, but it's conceivable that I won't have any until on or just after the release date (October 1).
In any event, if you'd like to order a signed copy (or copies) of The Godborn
, and you live in the United States, just Paypal me $25 dollars (EDIT AS OF 10/7: THE PRICE IS NOW $30; sorry about that, but I'm out of stock and the price has gone up on Amazon).  Include your shipping address, to whom the book should be dedicated, and anything else you'd like me to write (otherwise, I'll ad lib something).  My Paypal address is my public email address, paulsvantekemp at yahoo dot com.
Now, if you live outside the United States and want a signed copy, before sending me anything via Paypal, first send me an email with "Godborn esigning" in the subject line, and let me know your shipping address.  I'll estimate shipping and send you back a total amount.  If you choose to go forward, you can then just Paypal me that amount.
Easy stuff.  Hope to hear from you.