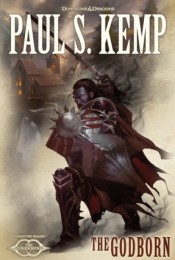 We're one week away from the start of The Sundering series, which launches with R.A. Salvatore's highly anticipated novel, The Companions: The Sundering, Book I
.  My novel, The Godborn
, is the second book of series.
And speaking of The Godborn
, here are a few more early reviews/impressions, none of which contain spoilers:
Craig at Geekstronomy says, "A great read with Kemp demonstrating his talent for storytelling."
Weary Writer calls The Godborn, "An amazing read."
And Matthew at the Silver Pen Scribe provides a thoughtful review from the standpoint of a reader who's never read any previous Cale stories, saying, "Kemp skillfully manages to lay out an intricate and intriguing series of events that draw you in without asking anything of you to know before hand. Everything just blossoms around you to form and you find yourself curiously charging along."
Huzzah.