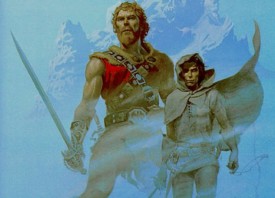 Inspired by a thread on Reddit, I thought I'd write down my thoughts on some of the things that I think define sword and sorcery.  Probably lots of folks have done this, but I'm going to go ahead and do it anyway.
So Paul, tell us in a paragraph what you think characterizes sword and sorcery?
Let me first take  a moment to point out that this all just my opinion and isn't necessarily meant to be an exhaustive list.  I'll also point out that genre and subgenre labels are notoriously fuzzy.  So, with that out of the way…
Sword and sorcery tends to focus more on personal stakes, as opposed to kingdom or
world-sized threats.  The cast of characters tends to be small, often focusing on a pair or a trio.  The stories tend to be self-contained, as opposed to trilogies or longer (and that's one of the reasons S&S is so well-suited to the short story format).  The stories feature a lot of action, and that action is often, but not always, combined with rapid-fire dialog. World building is often spare, relying more on tone and a few evocative hooks to establish setting, then inviting the reader to fill in the details  (I actually prefer this as a reader, in that for me it increases the mystery/sensawunda associated with the world).  Very often the world is gritty/dirty/vice-ridden, and civilization has a sense of being in decline, or at least decadent.  Typically magic (if present at all) is rare, less-systematized than you see in epic fantasy, and is usually a baleful, or at least a very mysterious and hard to control, force.
So that's about it.  I could spend a couple more paragraphs telling you how I think Sword and Sorcery differs from Heroic Fantasy (sometimes they're considered more or less the same thing), but that hardly seems worthwhile.  And it's all just speculation and taste anyway.  I mentioned that subgenre labels are fuzzy, yes?  Instead, let's go to the recommendations.  And if you have any S&S recommendations that I don't mention, please offer them in the comments.
Robert E. Howard's stories of Conan.
Fritz Leiber's Fafhrd and the Gray Mouser stories.
Leigh Brackett's Skaith series (technically sword and planet, but still awesome).
Edgar Rice Burrough's John Carter of Mars series (again, sword and planet technically)
The Thieves' World Anthologies edited by Lynn Abbey and Robert Asprin.
William King's Felix and Gotrek stories.
Michael Moorcock's Elric stories (though these are, by my personal definition, as close to heroic fantasy as they are to S&S).
Jon Sprunk's Shadow series.
Doug Hulick's Among Thieves.
Michael J. Sullivan's Riyria Revelations.
Kelly McCullough's Fallen Blade series.
My own Tales of Egil and Nix.
So if you're in the mood for an S&S flavored story, these are great places to look.  Have at it!