Because I've been remiss and owe you a blog post, a few things:
I'm busy.  Man, am I busy.  This is a good thing.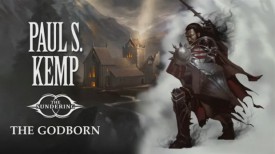 I'm working on The Godborn, book II of The Sundering, at the moment.  Most of the book is already done, so this work consists of expanding the novel, adding scenes here and there, that kind of thing.  So much fun to write Riven and Magadon and Brennus and Rivalen and Vasen (that's him in the pic to the left).  I think you're going to enjoy the book.  No Amazon listing yet, but I'll link to one when it appears.
A Discourse in Steel, the second novel of Egil and Nix (and the follow up to The Hammer and the Blade
), does, however, have an Amazon listing. No cover art yet, but hopefully I'll have something to share before too long.
Events have moved forward on my next Star Wars project.  This is the duology I've been talking about for a long time now and that Del Rey has called "very ambitious."  Alas, I still can say nothing about it except that it's moved forward, that I'm excited, and think you will be too.  I'm also (candidly) a bit nervous. As soon as I can share anything more, you can bet I will.
My Fantasy Football team, which I co-manage with a bud, looks strong this year.  We'll see.
I fear the Tigers may have lost the Central (and therefore missed the playoffs) because of Monday's loss to Chicago.  They made up a game last night, however, so you never know.  I'm hoping they can run off a streak of ten wins or so. In any event, fingers crossed that Miggy stays hot and wins the MVP while winning the Triple Crown (which hasn't been done in over 50 years and would be quite something).
In Kempland generally, the kids are fine, Jen is awesome, as always, and I can actually talk and eat food. I lost thirteen pounds due to the tonsillectomy. Now that I'm recovered, I plan to start P90x this weekend, because what the Hell.
And that's it. Hope all of you are well. 🙂