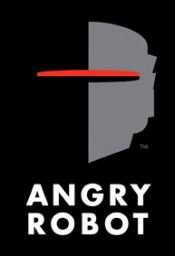 As you can see from the press release here, I've signed a two book deal with Angry Robot Books.   The books, entitled The Hammer and the Blade, A Tale of Egil and Nix and A Discourse in Steel, a Tale of Egil and Nix, both feature a pair of wily, somewhat shabby, but very likeable tomb-tappers-rogues-knaves-footpads named Egil (a burly, brooding priest of the Momentary God) and Nix (aka, Nix the Quick, Nix the Lucky, Nix the…um…whoreson and scoundrel).
Like most of my work these books are inspired by the sword and sorcery tales I love reading, lo, even unto this very day — Moorcock's Elric work, Lieber's Fafhrd and the Mouser stories, the Thieves' World anthologies, and Howard's Conan tales.
If you've enjoyed my Erevis Cale stories
and/or my Star Wars books
, you're going to love  the tales of Egil and Nix.
And as for Angry Robot, well, color me lucky.  The Robot Army is a great fit both for me personally and for these stories.  Marco, Lee, Mike, and the rest of the team are exactly the right amount of crazy. They love books and publish exciting stuff. Just look at the authors they feature:  Abnett, Tidhar, Beukes (*cough* Arthur C. Clarke award winner, *cough*), Wendig, Forbeck, Broaddus, Remic, Warren, McMahon, Crowther, and I could just keep going.  It's really an amazing lineup, and I'm lucky those incriminating photos of persons-who-shall-remain-unnamed finally paid dividends.  As to those photos, I'll say only that they involved a room floored in Saran Wrap, a liberal amount of Crisco, two llamas, a gag ball, a riding crop, and the soundtrack to Weird Science.   🙂
Anyway, most of you have been riding along with me for a long time, and I appreciate it more than you know.  You've probably stuck around because you like my characters, my pacing, the tone and style of my writing. Stick with me a little longer, yeah?  I think you're going to like where we go next.