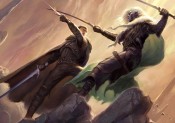 Susan Morris conducts an excellent interview with R.A. Salvatore on How to Write a Damn Good Fight Scene.  There's a ton of great tips in that interview.  Go read it.  I'll wait.
Back?
All right, one of things Susan doesn't ask directly (though the answer is implicit in Bob's responses, because he's a master at this as well as at the pure choreography of a combat scene) is this:  What is the purpose of a fight scene?
I think the answer is simple.  The purpose of a fight scene (or any tense
action scene) is the same as the purpose of any other scene in a book.  It should be there if and only if it establishes or furthers character (emotional catharsis is included here), establishes or furthers setting, and/or advances the plot.   A fight/action scene doesn't get a free pass because it's a fight/action scene.  One should never be included, for example, solely to break up a boring journey sequence (instead, rewrite the journey sequence so it's not boring; or write the fight scene in a way that does one of the things I mention above; or write in a tension-filled scene that doesn't involve fighting at all).
At the end of the day, readers are smart.  They know a throwaway fight scene when they read it and it moves them not.
Remember that a fight/action scene is the same as any other kind of scene, except the tension in the scene requires a fight/action sequence to resolve.  So apply the same standards for the inclusion of a fight/action scene as you would to any other kind of scene.