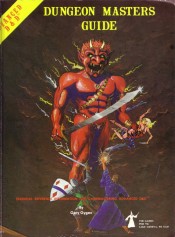 As this NY Times article (and this announcement by WotC) makes clear, the next iteration of Dungeons and Dragons is under development.   I've known about this for a while (but was sworn to secrecy under threat of thumbscrews) and have been privy to some of the discussions (in a mostly minor, incidental way). But what I've seen has me very excited about the future of D&D.
I think it's enormously wise of WotC to look to the D&D fan base — a huge population of smart, creative people — for input on the development.  The idea is to get at the core of D&D, the thing that has made it such a mainstay of tabletop RPGs for decades, and then develop a universal rules system around that core.  From what I've seen and heard already, I expect this will kick all kinds of ass.
Long and short:  I'm excited about it. I think there's a real chance that what comes out of this process will be the best iteration of D&D to-date. As a player, I'm looking forward to sitting around the table with friends and rolling some bones.  As a writer, I'm looking forward to the creative possibilities.  Rock on.