So now it can  be told.  The title of my forthcoming Star Wars novel

set in the Old Republic is: Deceived.   The full announcement is  here, but here's the cover, which I like a lot.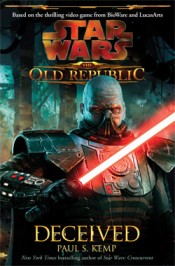 The man on the cover is Darth Malgus, who led the attack on the Jedi Temple, a precursor to the Imperial sneak attack that led to the sacking of Coruscant.  He is also the man featured in the "Deceived" trailer, which you can see in the post below.
So, why did I choose to write about Malgus?  Well, I saw that cinematic trailer and said to my editor, "I want to write about that guy."  And she said, "Funny thing, we want you to write about that guy, too."
Things work  out that way sometimes.  Anyway, I'm looking forward to this hitting shelves.