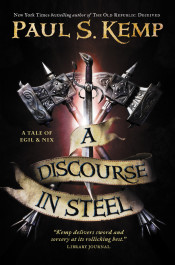 The mighty Tor.com has posted chapter one from my next novel, the second tale of Egil and Nix, the sword and sorcery bonanza (now with 27% more sorcery!), A Discourse in Steel
.
It contains no spoilers so you should read it.  And if you haven't yet ordered Discourse, or read the first tale of Egil and Nix, The Hammer and the Blade
, then you should hurry and do so, lest a terrible doom befall you.  DOOOOOOOOOM!
*clears throat*
DOOOOOOOOM!
That is all.