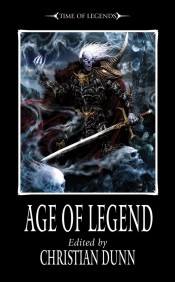 Recently I mentioned that I'd turned over a story to appear in an anthology of fiction set in the Warhammer setting, from Black Library.  Well, here it is: Age of Legend
, edited by the most excellent Christian Dunn, and available in January 2012. As is obvious from the title, the stories are set in the distant past of the Warhammer world, during the Time of Legends.
I'm told the lineup consists of Warhammer stalwarts that all fans of the setting will know, and a couple of newcomers, in the form of myself and Phil Athans.
My story is entitled "A Small Victory" and is a very personal tale set in ancient Nehekhara, at a point in time when Nagash's undead hordes are soon to sweep over the sands.  I think it's a compelling tale, very dark (as befits a Warhammer story), and I think you'll dig. I hope you'll check it out. 
And (to anticipate a question), yes indeed, I'd love to do more work in the Warhammer setting.  We'll just have to see what time brings.  🙂